A System of Accountability, Best Practices and Examples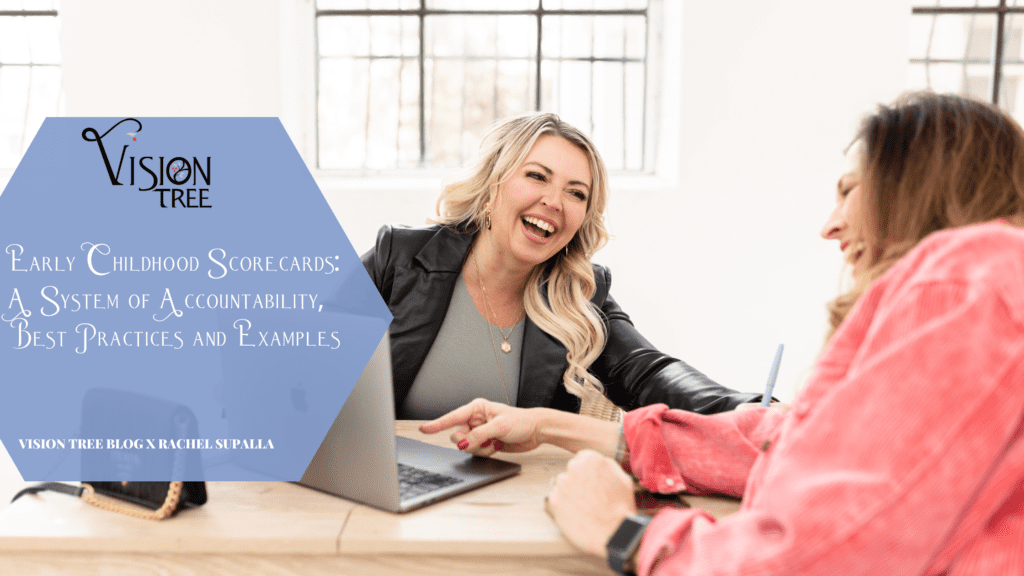 Pre-Pandemic, we were operating with 90% A players making significantly less money than they are now and they were mostly passionate about teaching and caring for the children. We were smaller then and hadn't really begun to scale or had the systems in place to do so. Our culture has always been our strength but as the leader, I was overworked, a bottleneck at the top of my company that was doing too much myself, resulting in not getting enough finished. I had great ideas but no real system to hold everyone and myself accountable. The track we were on was surviving but not thriving and definitely not scaleable or sustainable. Fast forward to 2020, not only did we endure the biggest pandemic in our lifetime and have to learn how to survive as essential workers but my business also began to scale at the same time. We were doing ok until…The Great Recession and that is when we saw our A team retire or leave the field and what we were getting in place of them was not the A team. At that moment, I really realized our systems needed fine tuning and our systems of accountability had to be innovative and completely revamped. Many early childhood programs struggle with employee productivity. And most employees are either unsatisfied, lack motivation, or both. This started to change when we started using scorecards.
Since its introduction in the late 1990s, many companies have reported increased performance and lower employee turnover rates. It's a dynamic tool that can be used on a large scale and customized for individual employees. Now I know that this tool is not only vital to increasing company culture but also to being able to scale your company while maintaining quality and outstanding performance. What you don't measure, won't improve. You will be stuck on the hamster wheel of hiring and rehiring and even worse micromanaging or lower expectations just to get by. Trust me, there is a better way.
Not only that, but the scorecard also encourages self-development and intrinsic motivation for increased employee engagement. As we are now three years into the pandemic, most American workers are not engaged at work.  New Gallup data shows that 50% are not engaged and another 18% are actively disengaged.  
However, don't let this data discourage you because there is hope, we now know how to make this issue better.   Companies that maintain higher engagement do so, by using their organizational culture and core values to drive business decisions, while maintaining strong connections between leaders and employees.  The way to accomplish the above is by keeping track of performance with clear achievable expectations, increasing collaboration, and focusing on employee wellbeing and most importantly, they equipped their leaders and middle managers with the skills and tools to have continuous, feedback, recognition with the team.  
Why is it important to put a scorecard system in place?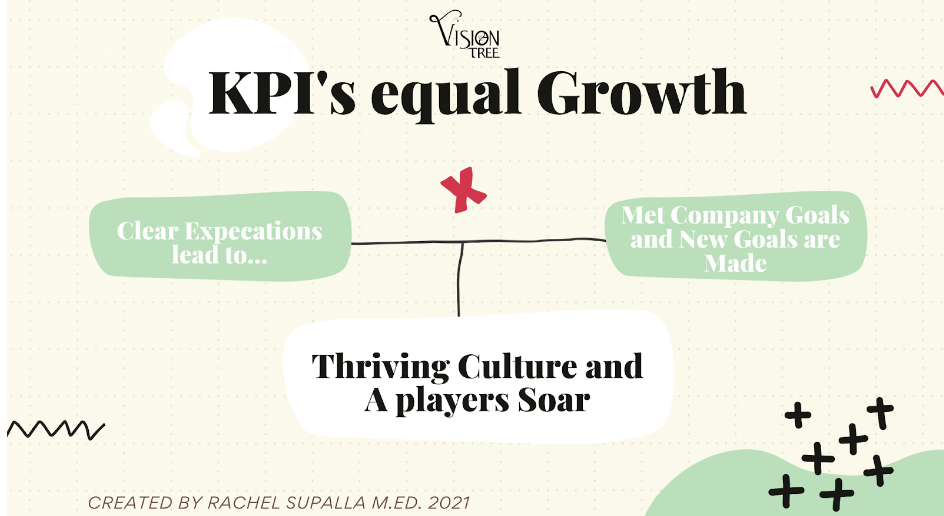 It makes communication more of a tool than a hindrance. Practically Perfect Performance scorecard makes communication easier by ensuring everybody is moving the bus in the same direction, working towards the same goal. It provides a clear structure that the team can follow and help others to improve as well.
It sets your program up for success with organizational strategies
Early childhood companies have unique sets of metrics to measure individual employee performance progress. An employee scorecard merges these approaches into a single dashboard or database. It provides clarity and defines logical expectations to which every employee can buy into.
It Encourages Teachers and the Team to Focus On Their Personal Development intrinsically
A KPI (Key, Performance, Indicator) scorecard requires you raise the bar and the A players will be at the top of their game, at work, and in their personal lives.
Individuals are encouraged to dream and create personal, financial and professional goals to monitor their performance. It gives them the drive to improve their skills and encourages self-improvement. 
What is needed on an Early Childhood Teacher and Director scorecard?
A typical teacher scorecard should contain the following key elements:
Key Performance indicators (and actions) in the following areas:

Professionalism
Process
Product
Early Childhood scorecards should contain an overview of your program goals and objectives. This overview is known as a strategy map. It's beneficial and crucial during the planning and execution of a company's systems of accountability.
Metrics should also be measured and tracked to increase performance and company growth.
Below are examples of scorecard metrics:
Enrollment Metrics
Staff Performance Metrics
Marketing Metrics
Financial Metrics
Implementing a scorecard and systems of accountability for Early Childhood requires a strategic map, creating a list of company metrics, choosing a suitable format for your calculations and dashboard, creating a ranking system and setting up an action plan with assigned duties.
I am excited to announce that I can help you with all of that and in addition to scorecards and systems of accountability for teachers and directors, you will get my middle manager and mentor teacher training system.  My practically perfect performance KPI course that is launching this month will give you all the tips, tricks and tools to start you on this path to freedom, plus weekly implementation coaching to guide you on every step of the process.  I am sharing my old director scorecard here so that you can see some ideas on how to create one.  Here is the sample scorecard for you.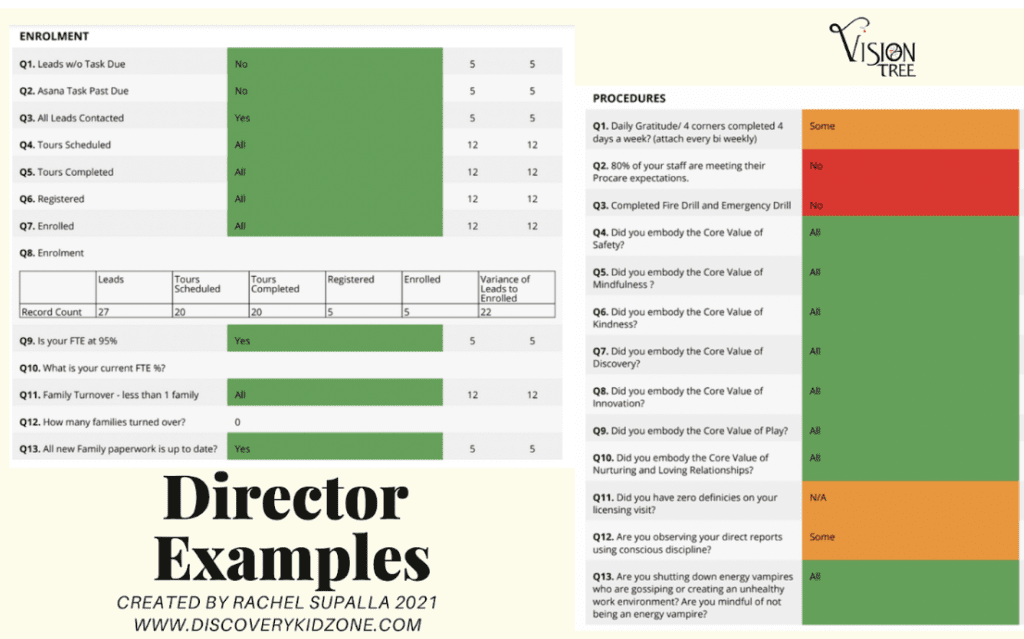 You can join the Practically Perfect Performance course waitlist here for 10% off only for a short period of time.
I am excited about you improving your performance in your schools.